DHARAMSHALA: A top official of the European Union has reiterated call for dialogue to resolve the issue of Tibet as Chinese President Xi Jinping arrived Sunday in Belgium on his first day.
Mr Henri Malosse, President of the European Economic and Social Committee, also stressed the importance of raising the issue of human rights in China during Xi Jinping's visit.
"President Xi Jinping paid a visit yesterday to the pandas in Belgium, but there is something much more important – human rights in China – who suffer from lack of basic human rights," said Malosse while addressing a demonstration for human rights in China in Brussels on Monday. Representatives of the Uyghur and Tibetan communities as well as Chinese activists took part in the event. Many Tibetans took the initiative to shave their hair as a sign protest against Chinese oppression in Tibet.
Mr Malosse once again emphasised on dialogue concerning Tibet.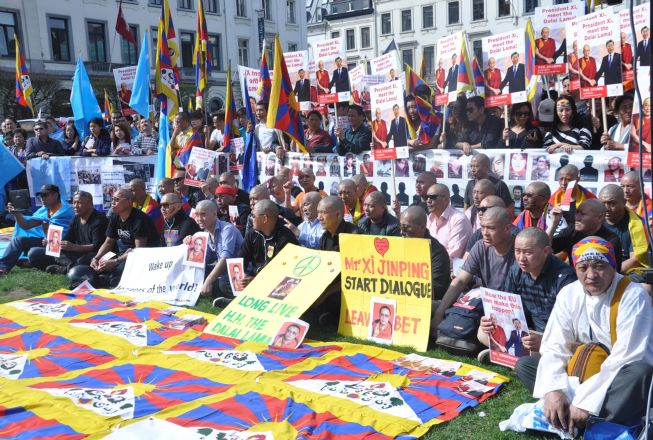 During his visit to the Tibetan community in Dharamshala in India in March, he expressed strong support for Middle Way Approach to resolve the Tibet issue through dialogue between the Chinese government and the Tibetan leadership.
"The Tibet question is universal", said Mr Henri Malosse in his address at the Tibetan National Uprising Day in Dharamshala on 10 March. "It is a question of liberty, democracy and solidarity, which are the values at the foundation of the European Union. As such, Europe has these values as a legacy and must defend them everywhere they are in danger in order to find a sustainable solution. Thus, support must be brought to the Middle Way Approach of Tibetans – Umaylam – and to the dialogue with China. It is the same approach that claims for a European involvement in the recent events in Crimea, not by following the other actors such as Russians or Americans, but by being more coherent and imposing dialogue between all the stakeholders," he said.
"It is Europe's duty to direct efforts towards setting up dialogue between the Tibetan people and the People's Republic of China without pre-conditions. I thus firmly believe that civil society – in Tibet, China and Europe – has the potential to facilitate a peaceful way out of the crisis, as it has demonstrated in other conflicts in the past," he said.