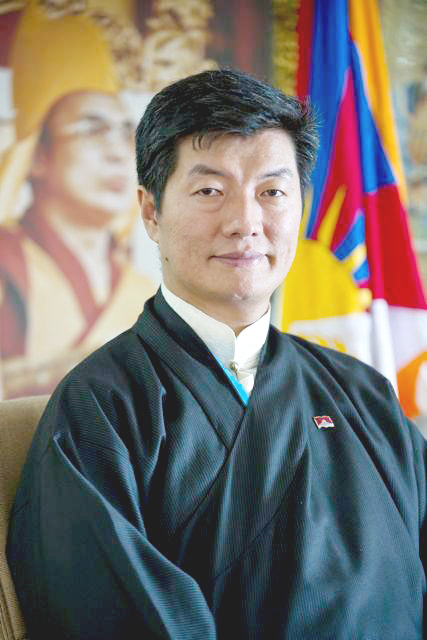 Sikyong Lobsang Sangay
Message from the Sikyong
For millions of people throughout the world, Tibet evokes rhapsodic images of His Holiness the Dalai Lama, landscapes surrounded by snow peaked mountains, cheerful nomads, and chanting monks.
The situation on the ground in today's Tibet, however points to a harsher reality: a land occupied by China for over 50 years, countless number of lost lives, a culture in danger of disappearing. A level of repression reaching such intensity that 130 Tibetans to date have set themselves ablaze as a political form of protest since 2009.
Yet, despite incredible challenges concomitant with a rising China, Tibetans remains undeterred in their determination to find a peaceful resolution through dialogue and "genuine autonomy" with the People's Republic of China. Referred to as the "Middle Way", this approach was originally envisioned by His Holiness the Dalai Lama with overwhelming support from the Tibetan people. While he is globally known for his constant efforts for universal peace based on our shared humanity, the Middle Way Approach (Umaylam in Tibetan) is part of his legacy to the world for peaceful conflict resolution — how to look at a conflict through different principles such as dialogue, non-violence and a win-win proposition. The Tibetan situation illustrates how this approach is applied in a real life conflict situation. Its success bears global implications in an age where there is violence and growing popular discourse on the importance of peaceful conflict resolution. What happens to peace if longstanding non-violent political movements fail? The case of Tibet challenges the world to garner the courage to live by those principles when faced with an increasingly assertive China.
In the last few years, we have witnessed and are encouraged by growing awareness and support for the Middle Way Approach. To reinforce this development, we have created this dedicated web site with new succinct documents and video (Briefing Note, Timeline, FAQ), to begin with, based on existing materials on the Middle Way Approach. Help us amplify our message of peace by sharing these documents within your network.
The Central Tibetan Administration (CTA) is deeply committed to the Middle Way Approach and will continue to build upon the foundation laid by previous administrations so that freedom may soon be restored in Tibet.
Dr. Lobsang Sangay
Sikyong
Central Tibetan Administration
3 May 2014
Dharamshala
JOIN US!
Be a catalyst towards a more peaceful world and support Tibet's long-standing non-violent struggle.
Through His Holiness the Dalai Lama's legacy for peaceful conflict resolution, the Middle Way Approach (Umaylam), join us in restoring freedom in Tibet through non-violence, dialogue and genuine autonomy. The very survival of the Tibetan people, with its distinct identity, is at stake.
Sign-up on our mailing list and be a part of our global campaign
"Like" us on Facebook
Share the link to www.middlewayapproach within your personal network
Invite a guest speaker on the Middle Way Approach
Help us amplify our message. Promote the Middle Way Approach at your local relevant community events.