DHARAMSHALA: "The Middle Way Approach is the most practical approach and mutually beneficial to both the Tibetan and Chinese," said His Holiness the Dalai Lama in his meeting with delegates of the first international conference on Umaylam, Middle Way Approach at Tsuglagkhang today.
"The guiding spirit of the Middle Way Approach is the pursuit of a mutually acceptable and mutually beneficial solution through dialogue, in the spirit of reconciliation and compromise. We resolved not to seek the separation and independence of Tibet but to strive for a solution within the framework of the PRC," His Holiness said, addressing over 613 participants of the conference.
His Holiness said: "I was the one who introduced Middle Way Approach and I must see it through. Sikyong is a democratically elected leader. Lobsang Sangay believes in Middle Way Approach 100 percent and practices it as the official policy of the Central Tibetan Administration."
His Holiness said that the Policy has a definite history of expert discussion and careful observations.
"Despite all our sincere efforts to come to a peaceful settlement with the Chinese government, eventually in 1959 I, along with my Cabinet, had to go into exile. Soon after arriving in exile we began a series of discussions on this issue with, and solicited suggestions from, the Chairperson and Vice-Chairperson of the Assembly of Tibetan People's Deputies, the Kashag and many scholars and experts on how to resolve the Tibetan problem through contact and discussions with the Chinese authorities. As a result, around 1974 we adopted the Middle Way Approach.
His Holiness explained that this policy change helped establish the first contact with China after coming to exile.
"In 1979 when the late Chinese leader Deng Xiaoping signaled a willingness for discussion proposed that "except independence, all other issues can be resolved through negotiations", we were fully prepared to respond positively. I told Gyalo Dhondup to convey that we are committed to a mutually beneficial solution and not seeking independence," His Holiness said.
"As a result of this direct meeting, we have had successive fact-finding delegations and representatives who visited many areas of Tibet. The contacts have also allowed Tibetans in Tibet and in exile to visit each other".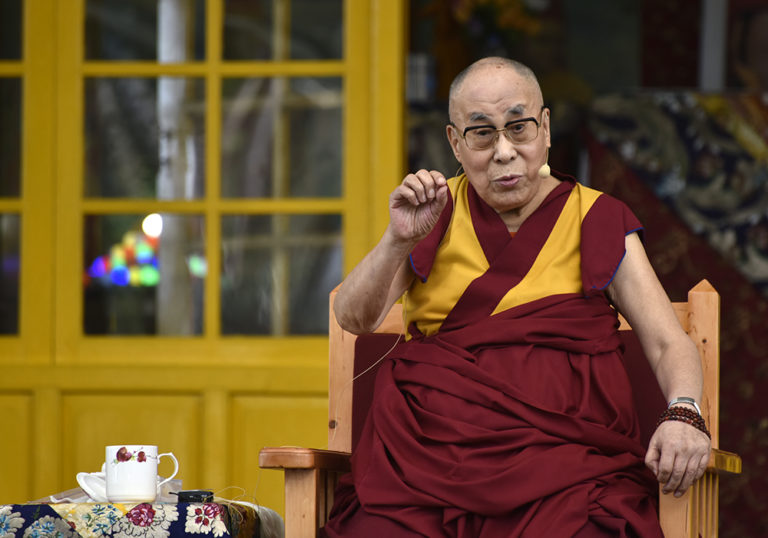 "Most importantly," he stressed, "Middle Way Approach has received endorsement and solid support from a large number of Chinese scholars, activists, writers, public personalities.
He regaled the 1,000 articles and opinion pieces written by Chinese scholars and writers supporting the Middle Way Approach. These include a report by the Beijing-based legal NGO, the Gongmeng Constitutional Initiative, describing the suffering and grievances of the Tibetan people and calling for policy change. In 2012, 82 Chinese NGOs based in 15 countries sent a petition to the United Nations, the European Union, various Parliaments and Governments, exhorting them to "urge the Chinese government to start negotiations as soon as possible, to discuss issues including religious freedom, the rights of using and preserving Tibetan language and culture, and the Dalai Lama's unfettered return to Tibet."
"The Middle Way Approach has also enabled Chinese Buddhists to take part in activities supporting Tibet". He continued, "Many governments have officially stated their support for the Middle Way Approach, including the U.S. India, Britain, France, Germany and Australia. President Barack Obama particularly released a statement after our meeting, expressing support for the Middle Way Approach.
His Holiness said one of the most important achievements of the delegation visit was the reinforcement of unity between Tibetans inside Tibet and those in exile.
"The Tibetan delegation to Tibet have achieved to connect and reinforce the unity of Tibetans inside Tibet and those of us in exile. This is one of the key achievement of Middle Way Approach. Had we been calling for Rangzen, we wouldn't have achieved this."